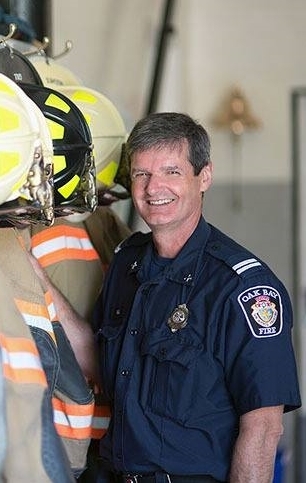 As a church family, we are deeply saddened by the loss of Ken Gill on March 29, 2018. Ken was on our Leadership Team and served as our Chairperson, as well as serving in a variety of ministries in our church. His passing will be difficult to bear for his loving parents, Monte & Sylvia, who attend PMCC, as well as for Marie, his wife of 35 years, and his grown children, Brian (Lindsay), and Ashley (Richard). Ken is also survived by his brother, Dave, and sister, Colleen.
Ken had retired as Captain Inspector from the Oak Bay Fire Department where he completed at 32 year career in the fire service. Rather than consider just his own future, he was soon challenged to consider becoming a Fire Chaplain. After a year off, he prepared for the role which he held for the past 3 years while serving the firefighters at Oak Bay and Esquimalt Fire Halls.
Ken had an amazing network of friends for whom he was always a reliable support, particulary with his friends in the Piranha Swim Club of North Saanich.. He loved the outdoors and enjoyed camping, hiking, cycling, and just about any opportunity for an outdoor adventure.
A Celebration of Life was held on April 16, 2018 to honor Ken and the legacy he leaves with his family, friends, and members of the Emergency Services of Greater Victoria. His friends on the PMCC Leadership Team including Travis, Dixie, Larry, Barbara, Gayle, Bill, Vern, and Kathy, will really miss Ken and are so thankful we had the privilege of serving the Lord with him. The congregation will also miss him as is evident by the many broken hearts and shed tears. But we all plan to meet him again in eternity where he now gets to gaze upon the face of God. We love you, Ken!
To view the video of Ken's celebration of life, go to YouTube and search for "Ken Gill Celebration of Life" or simply click on the PLAY arrow below.